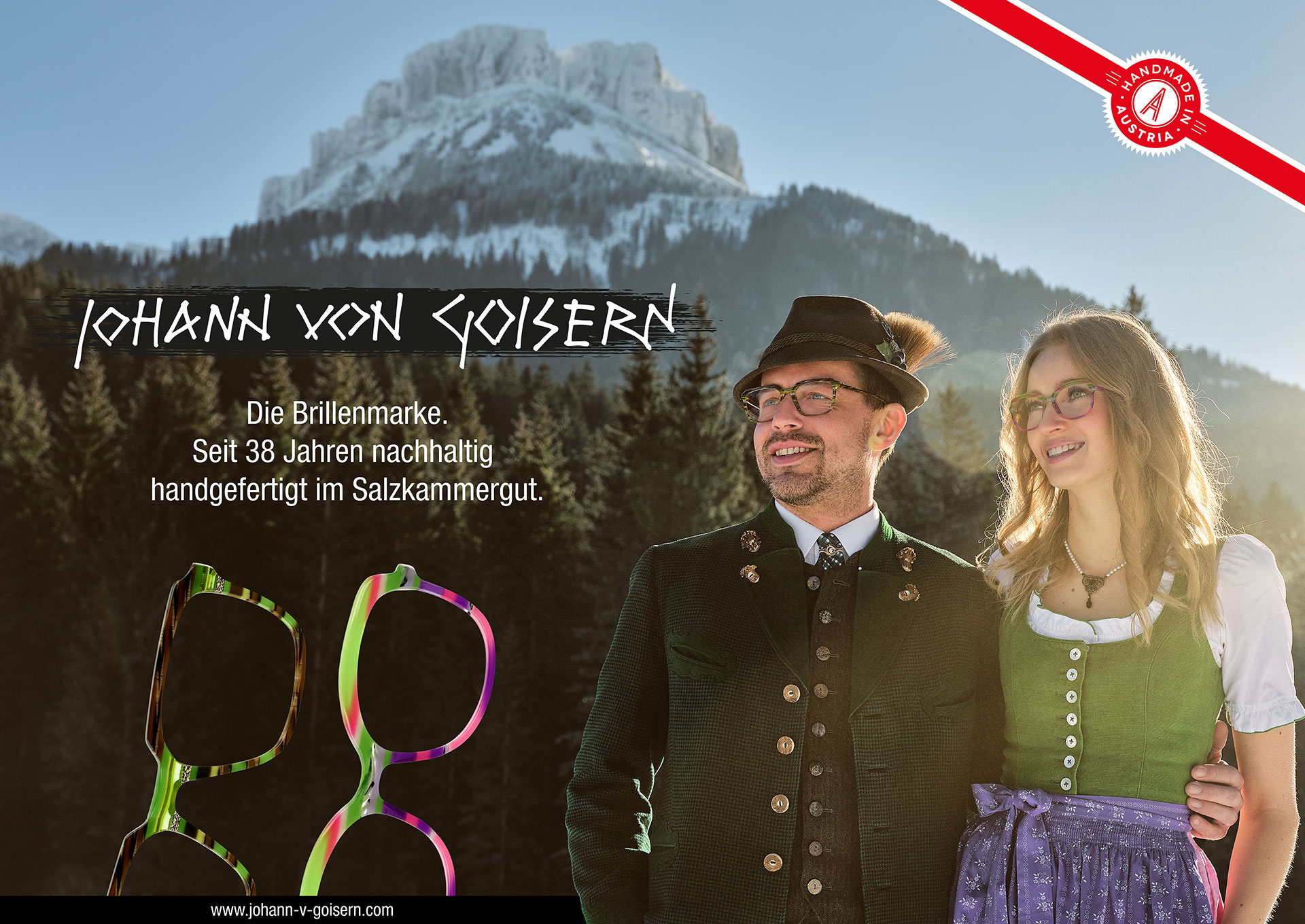 With its origins in one of the most beautiful regions in the world.
Johann von Goisern's new advertising campaign shows what the brand stands for:
Joie de vivre
Regionality
Nachhaltigkeit
The colourful frames here show their origins in the Salzkammergut.
The frames J786 X51 and J781 X25 reflect the traditional costume of the Ausseerland, from the "neighbourhood" of the Styrian Salzkammergut.
You and the billboard.
Until 4 June we are represented on two printed billboards in Bad Aussee, Styria in Austria. If you take a selfie of yourself with one of the billboards and send it to [email protected], you will automatically be entered into the competition. 

What is there to win?
The following prizes are up for grabs among all those who take part:
1st to 3rd place: A pair of Johann von Goisern sunglasses of your choice (from the current catalogue):

4th to 10th place: One of the following items of your choice from the JvG.club Shop:
1 – JvG Umbrella
2 – JvG poker cards
3 – JvG cosmetic bag
4 – JvG notebook
5 – JvG Puzzle

Where can the posters be found?
There are 2 locations for them:
Print posters, until 4 June:
PVA car park; Altausseer Straße, opposite the fire brigade
Railway station; directly by the driveway to the station
If you are a winner…
If you are one of the winners, you will be informed by e-mail after 4 June.
Please also check your spam folder.
If you do not reply within 14 days, we will have to choose a new winner.
No cash redemption possible. The legal process is excluded.